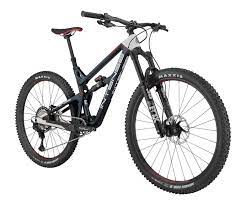 Mountain bikes have come a long way in the past 20 years. If you are going on rough terrain, they are just as advanced and specialized as road racing bikes, with different configurations for specific disciplines. Instead of being just a sturdier bike with bigger tires for more traction, they offer more control with wider handlebars, grippy tires and suspension. Providing stability when going over bumps and other obstacles without affecting the rider, the suspension fork on the front wheel allows for a smoother ride. No matter if you are a serious rider, new to the sport, or just want a more comfortable ride on trails, there is a mountain bike for you!
Jamis Trail X
The Trail X bikes are the most affordable in the Jamis lineup, and they are ideal for riders new to mountain biking or for those who just want something new to take on trails. They share some of the same features as higher-end mountain bikes, such as lightweight aluminum frames, front suspension, and disc brakes. It is also suitable for casual riders and adaptable for commuters who do not want to be limited to just riding on pavement. Equipped with 27.5" wheels that are best suited for smaller frame sizes. These bikes have great traction and are more maneuverable than a 29" wheel bicycle. Perfectly suited for a rider coming from a 20" BMX background.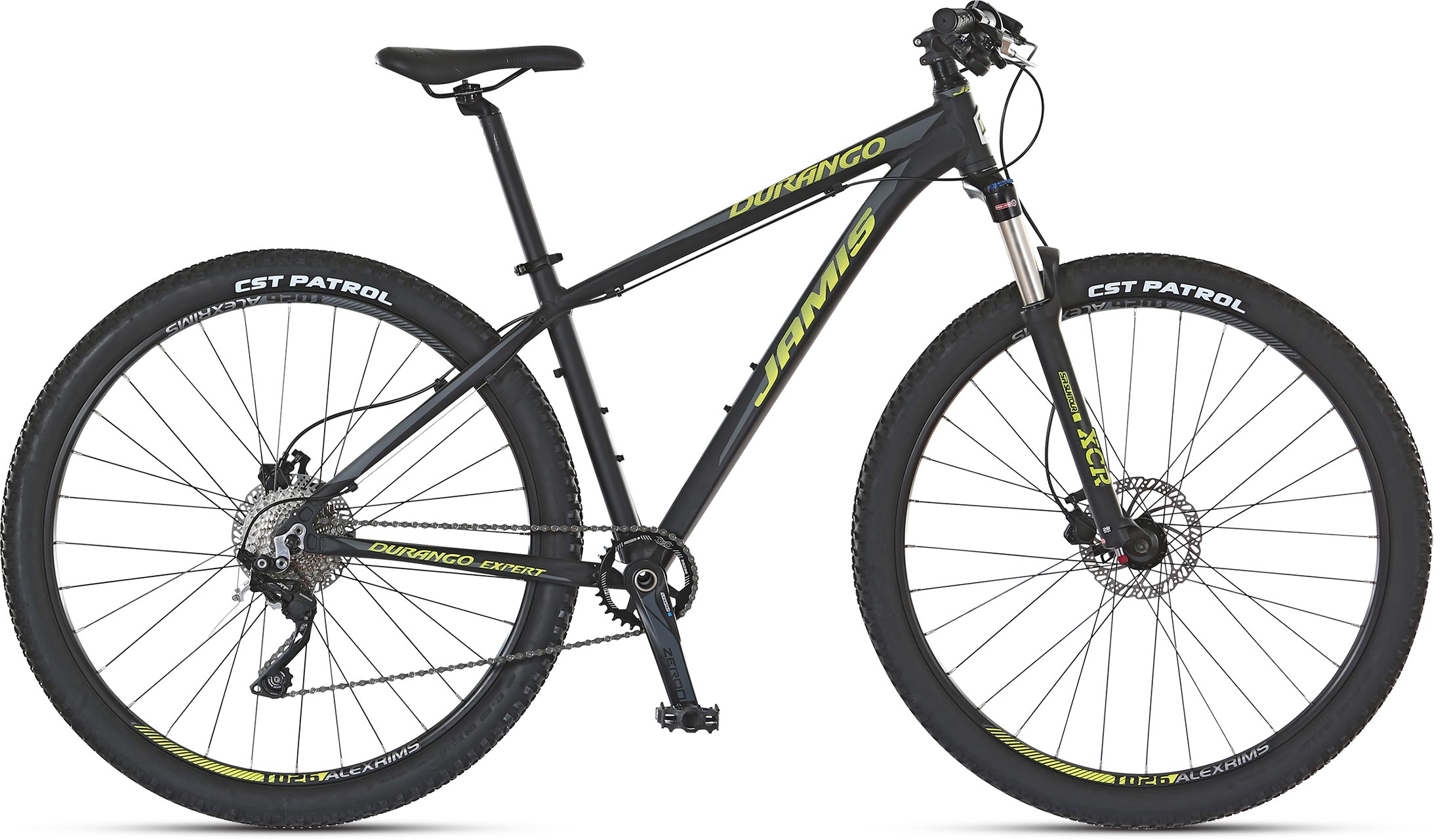 Durango
The Durango series of bikes share many of the same features as the Trail X series, except that they feature 29" wheels. These larger wheels are favorites among riders who want to tackle rougher terrain, featuring the same lightweight aluminum frame and front suspension fork. These are another excellent choice for the new or casual rider. The bigger wheels are more proportionate with larger frames sizes and they are able to roll over obstacles easier and maintain momentum easier than a smaller wheel.
Komodo
The Jamis Komodo series of mountain bikes are what's called "Plus" bikes.  With tires measuring 3" wide, this puts them between a standard mountain bike tire and a fat bike tire.  This is an increasingly popular type of bike, especially for newer yet serious riders because of both the added comfort and traction the wider tires provide.  Available in both 26"+ and 27.5"+ varieties, all models feature lightweight aluminum frames, front suspension forks, and disc brakes.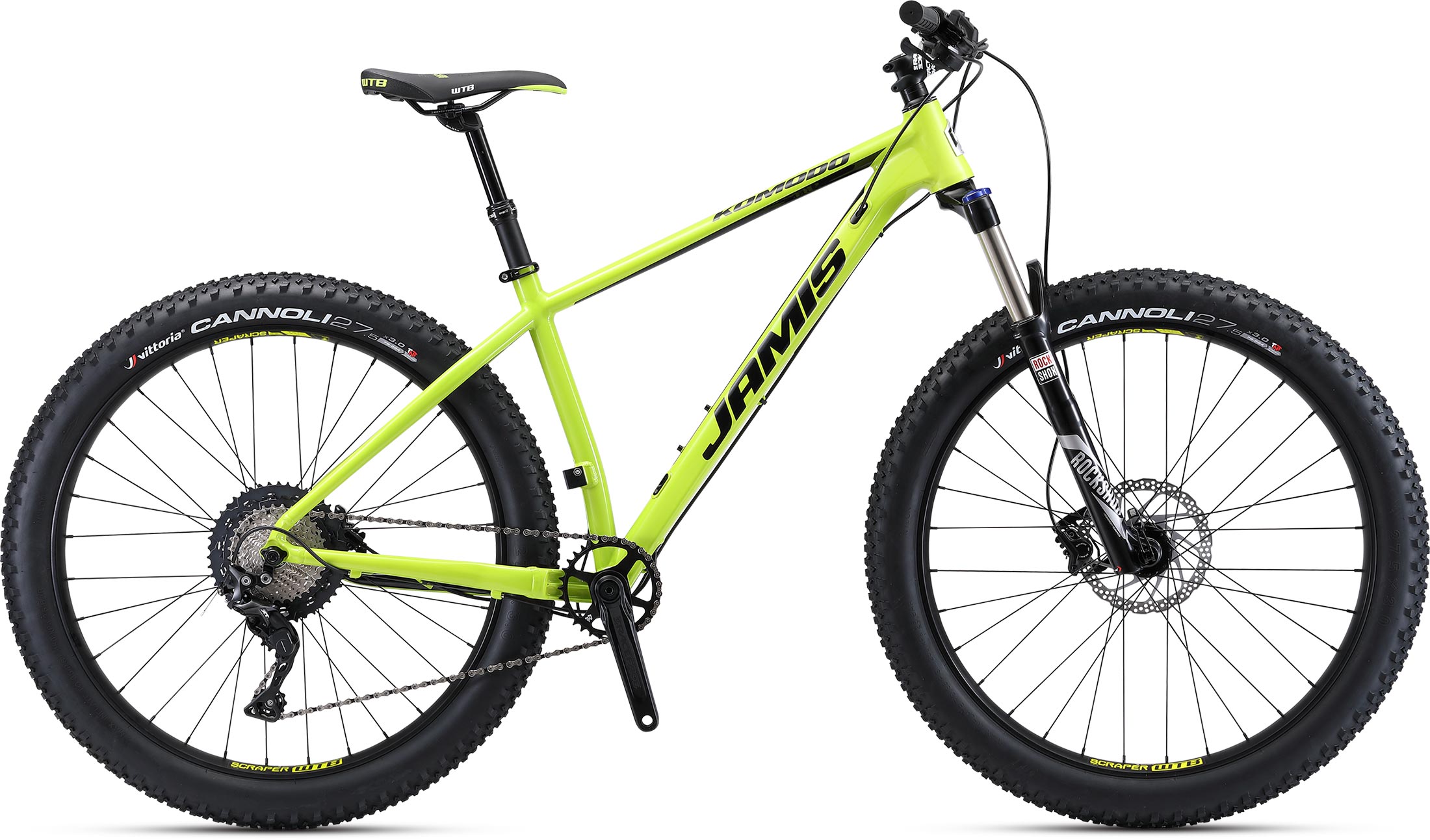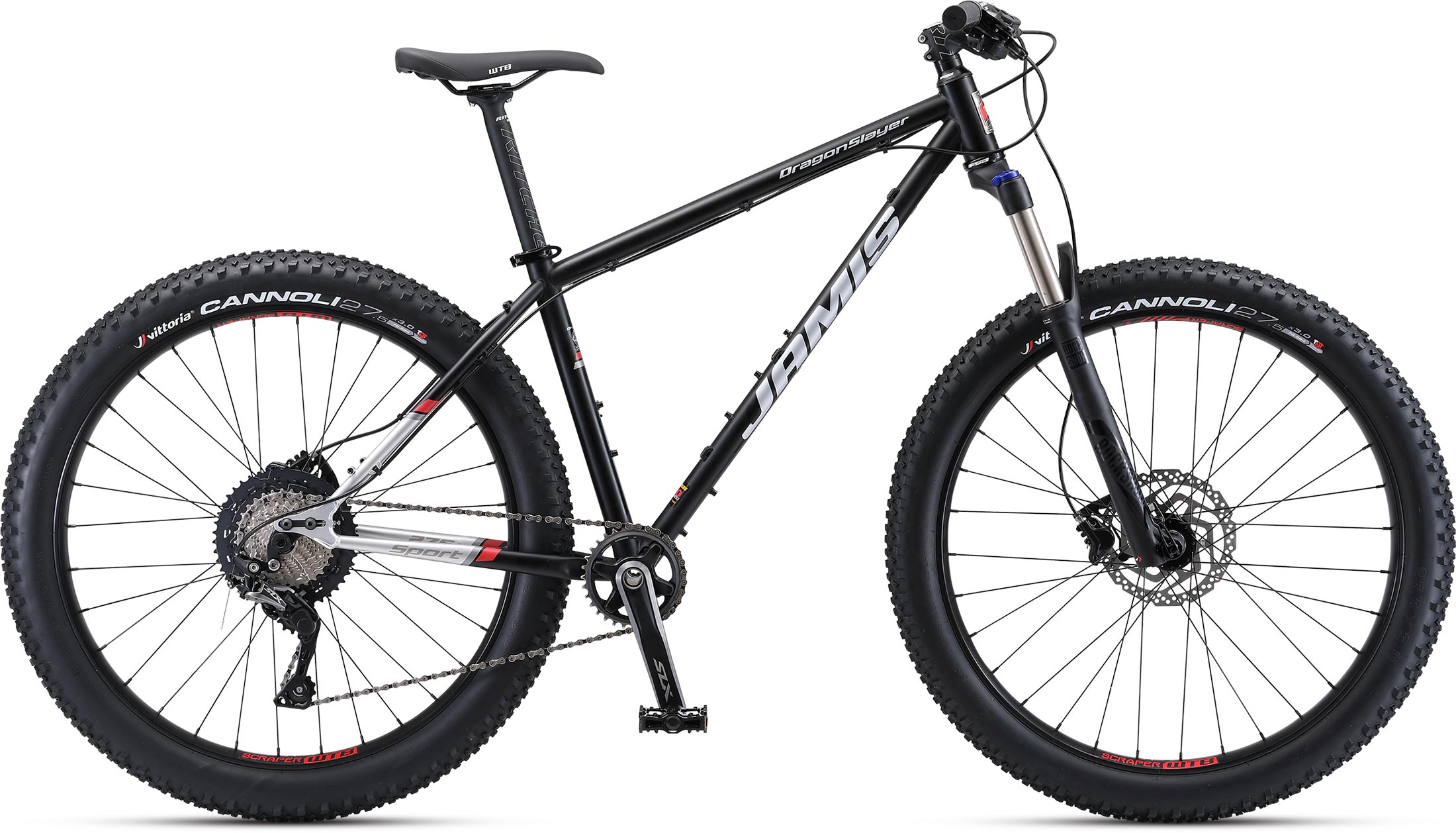 Dragon Slayer
The Jamis Dragon Slayer series of bikes is very similar to the Komodo series, except that they feature a steel frame instead of aluminum.  While slightly heavier than aluminum, steel frames have a different feel some riders prefer.  Steel has more spring to it than aluminum, so it can help to smooth out a ride even further.  Combined with the larger Plus size tires and front suspension fork, this is as close as you'll come to a full suspension mountain bike without all of the added weight and cost!
JAMIS Faultline
The Faultline series of bikes from Jamis are more serious bikes for riders who are looking to challenge themselves. They are suitable for anyone who wants to step up from a hardtail or who just wants to tackle tougher terrain with confidence. The Aluminum frame keeps the price down while equipping these bikes with higher-end components. These bikes have better gear systems, tuneable front and rear suspension, as well as hydraulic disc brakes for more control on steep terrain.