Electric bikes have come a long way in the past few years. More powerful and efficient motors, better batteries, and more advanced electronics. They make cycling easier from just giving you a little help with your pedaling, to being able to ride along without pedaling at all! From casual riding, to commuting, to road and mountain biking, there is an E-Bike for you!
It's the wild west right now with electric bicycles available on-line. The pros at Around Town offer the best bikes and complete service on every bike we sell. There are many factors to consider when purchasing an e-bike and we select the best product for use in our area on our local trails. The motor size, battery voltage, tire size and bicycle weight all contribute to the battery range, hill climbing prowess, speed and controllability of the bike.
Magnum Cosmo S
Work hard and play harder—with budget-friendly style. The Magnum Cosmo S has a step-thru style frame with a fully integrated battery. 26″ tires coupled with front suspension provide a super stable and smooth ride. The power system is 48 Volts running on a 500 Watt motor and a 15Ah battery for the range and power you need to run errands, conquer that climb or just go on a relaxing bike ride. Rack, Fenders and integrated lights, the Cosmo S is an incredible value.
Magnum Navigator S
A beautifully designed, purpose built electric bike well suited to urban riding or commuting. Step-thru frame for easy mounting and dismounting. Powerful 500W 48V power system with a fully integrated battery. Equipped with a rear rack, lights and fenders, the Navigator has all the safety and comfort features with excellent power and good range in a lighter weight e-bike.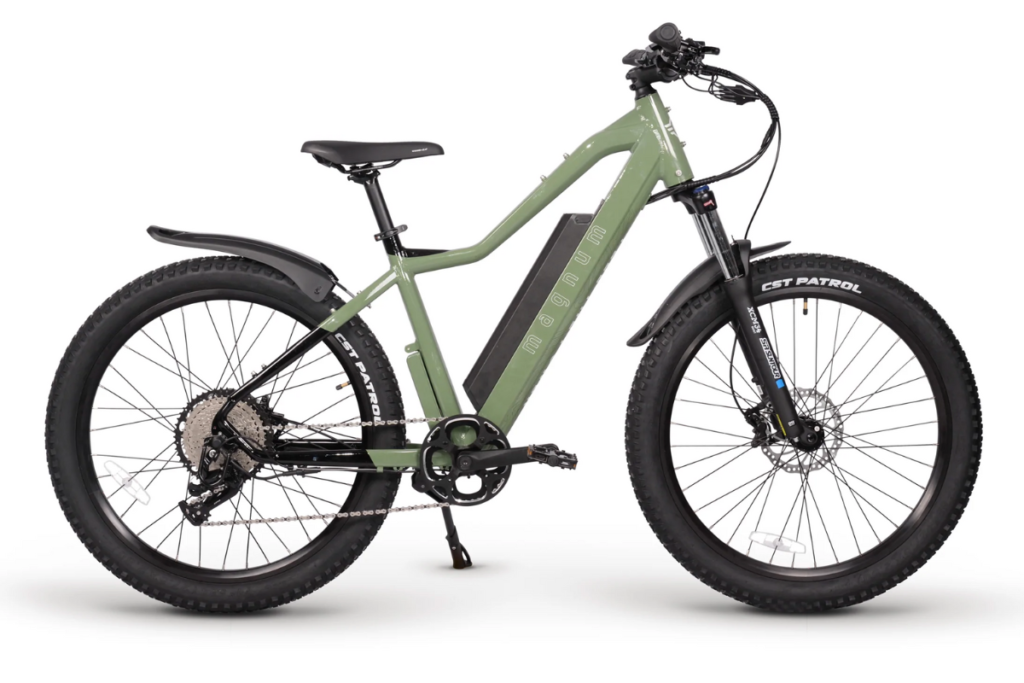 Magnum Peak T5
The Peak T5 begins where the road ends! It has a torque pedal assist sensor that combines power from the rider and the motor for the ultimate in smoothness and control. A wide range drive train and a robust power system make the Peak T5 an ideal choice for trail riding year round.
Hovsco HovAplpha 26″
HovAlpha Step-Through is elegantly designed with a front suspension fork, fat tires, convenient low-step bike frame and exceptional handling; you can have a comfortable ride definitely across whichever terrain your spirit chooses, whilst built in fenders and integrated front and rear lights guarantee that wherever you go you'll be both seen by others and protected from the terrain beneath you.

Favorite Hybrid Pro XR
The Favorite Hybrid Pro XR is an evolution of new technologies. The 750W Aikema motor is super smooth with a very progressive power curve. The bike features a 1600W automatic headlight built into the Smart System Stem (Get mapping and turn by turn directions using the app), Intelligent Wheel Lock secures your bike, Air sprung suspension is supple and light. Available in step over and step through style frames, the Favorite line-up very attractive and user friendly.